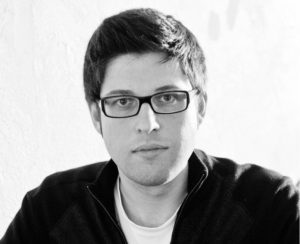 David James Poissant is the author of The Heaven of Animals: Stories (Simon & Schuster, 2014), winner of the 2015 GLCA New Writers Award, the Silver Medal for fiction from the Florida Book Awards, and a finalist for the L.A. Times Book Prize. The Heaven of Animals has been longlisted for the PEN/Robert W. Bingham Prize, named an Amazon Best Book of the Year, and was named the Best Short Story Collection of 2014 by Tweed's Magazine. Additionally, the book was a Washington Post "Out Now" Pick, a New York Post "Must-Read" Selection, and one of the Atlanta Journal-Constitution's 9 Best Books of 2014. Poissant's stories and essays have appeared in The Atlantic Monthly, The Chicago Tribune, Glimmer Train, The New York Times, One Story, Playboy, Ploughshares, The Southern Review, and in several annual anthologies including New Stories from the South and Best New American Voices. He teaches in the MFA Program at the University of Central Florida and lives in Orlando with his wife and daughters.
I interviewed David James Poissant via phone about his short story collection, The Heaven of Animals: Stories. This is the second half of that interview.
There is truth and honesty to your writing, which I believe draws the reader into your stories. Are you a keen observer of human behavior? Is this what shapes and forms your stories?

I don't know if I'm a keen observer of human behavior; I'm not a writer who walks around with a notebook in my pocket taking notes. I think it's more that I'm trying to imagine how to write my way in. It's sort of like method acting. It's me trying to think I'm the character and how the character goes through these terrible things. For example, if I lost a child, what would that be like? Then I try to move through the steps of grief.
Do you do any research for your stories?If I had done too much research up front that might have limited what I thought I could do in the story.
I often do research after the fact. If I try to do research early on, it messes me up. I try to write a story as I imagine it. I have yet to come up with a story that is too far from the truth. Later, I use research to fix the story. I wrote about Mormonism, and I'm not a Mormon, so I took it to a couple of my Mormons friends, and they steered me right.
If I had done too much research up front that might have limited what I thought I could do in the story.
Your stories are so much about broken relationships, about trying to move forward, almost like a "how to" guide, only the tips given aren't necessarily the best advice, or the best practice. Still, it demonstrates just how human we are, and how we cope with loss whether that is from death, or a damaged relationship that is beyond repair, or whatever the circumstances happen to be, so I like the fact you don't sugarcoat it in any way, and that your stories are accurate.
People talk about the likeability of characters, and that's a difficult thing. I don't feel that all characters should be likeable. I feel the reader should be like the writer, empathizing with the character's situation. I feel the reader can't empathize if the cue is not given first by the author. That cue comes across best in tone.
How long have you been writing?
I've been writing seriously since 2004, so eleven years.
When you received your MFA, how much did that help your writing and moving forward?
It helped me a ton. As an undergrad, I wrote poetry, but poetry wasn't my strength. At 21, 22 years old, I didn't see a way forward, I didn't see how fiction was working; I wasn't well read. I took a couple of years to read. I was reading a book every day or two, and I was reading as much fiction as I could.Reading is the best education.

Reading is the best education.
Then, in 2004, I got an opportunity to volunteer at the Chattahoochee Review, which is a nice literary magazine in Atlanta, and I tried to make myself indispensable. Before long, I was the fiction editor. I had no real editing in my background, and no writing credits to my own name, but they realized I had a good eye for fiction. I was a pretty fast reader, and I could pull out these gems.
I then applied to MFA programs. I applied to twelve and got into one, so I went. My wife and I sold our house and moved to Tucson, Arizona. After two years of that, I decided to keep going and get my PhD, so that was another four years. Those six years were writing, and workshopping, and sharing my fiction with others. Even though I was good at looking at others' work objectively, it took me six years to apply that objective lens to my own work, and that's the hard thing. You know your work is not working, and you don't know why. It just takes time. And, for me, that was the training ground, the MFA and PHD programs.
When you're submitting your work, are you doing most of the legwork, or is someone doing this for you?
I have an agent. She definitely submitted the book proposal. For my short stories, she'll submit to 10 or 12 big places, then I'll take over.
When did you get an agent? Did the agent come to you?
No, I was lucky. In 2006, I placed second in the Atlantic Monthly Student Writing Contest when I was in my MFA program. They didn't publish my story in the magazine, only my name, but a number of agents contacted me, asking to see my work. I sent them what I had, and that didn't lead anywhere. In the summer of 2006, I was at a summer writers conference, and I got five minutes with an agent, Gail Hochman. I was really young, only 26, and I had published only two short stories at that point, but she was very gracious. She told me she thought I was too early in my career. "I don't think you need an agent," she said. "You don't have a book." But, she was willing to read my two stories, and, two months later, I heard back from her, which I hadn't really expected. She liked the stories, and she offered to start sending them out for me. She told me she'd represent me when I had a finished collection. She stayed true to her word.
All of the stories in the collection were first published. She placed two of the stories in the collection. She placed one with The Atlantic and one with One Story. I don't know if I would have gotten those publications by sending out on my own.
Overall, how long does it take for you to craft your short stories?
I wish I could figure out my own process. I would say that more than half the time the stories end up not working, or they don't get finished. Sometimes, halfway-through, I realize there is nothing there. Sometimes, a story works. It comes out in one sitting. "Lizard Man" I wrote at a rate of a page a day, every day for a month.Sometimes, I will put a story away for a year after the first draft because I don't have an ending, and, then, a year later something will hit me, and I'll pull the story back out and finish it.

Sometimes, I will put a story away for a year after the first draft because I don't have an ending, and, then, a year later something will hit me, and I'll pull the story back out and finish it. I think with "Nudists," I wrote a big chunk of it in 2008, then I finished it in 2011. It stayed in the back of my mind. I was always thinking about it.
Who does your editing? Are you your own editor, or do you pass it off to someone else eventually?
With the collection, I had an amazing editor, Millicent Bennett at Simon & Schuster. She was editing stories that had already been edited by editors at journals and magazines, so the stories themselves didn't need tons of editing. Also, I'm a little protective of my sentences and my sentence structures, so sometimes I don't want to make changes to my sentences. But, editors are usually easy to work with. They point out things like redundancy or the need for more information on a particular character. I'm happy to accommodate good editors. They are almost always right.
With the collection, Millicent helped me to comb through 35 stories and choose the best ones for The Heaven of Animals. We usually agreed which stories were the best and why. She's amazing.
I'm going to be very much indebted to her with my first novel, considering the fact that the novel is a much newer form for me. I'm going to need her help in a way that I maybe didn't quite as much with the stories.
What's the largest story you have ever written before you started writing the novel?
"Nudists" and "Amputee" were between 40 and 45 pages in Microsoft Word, and in 2010 I wrote a novella which I still haven't placed. It's hard to place a novella. That one's between 70 and 75 pages. I have two failed novels in a drawer, but they never made it past page 150.
This novel is the very first big project. The first draft was about 400 pages.If you want people to support you, you have to be reading too.

Do you find it difficult to get into a character that is so removed from who you are?
Absolutely. There are six main characters in the novel I'm writing, and there are two main ones that I'm definitely having difficulty with. For whatever reason, the other four come more naturally to me.
I'm writing about a retired man in his 70s, and I really try to put myself in that position. It's so hard. What would I be thinking about if I had ten, maybe twenty years left to live? I have to get through it, and it's hard, so I keep going. That's all I do. I just keep at it, keep trying.
Where do you visualize your next works? What kind of territory, what kind of structure do you see your next stories, and do you plan to write a novel, or are you going to keep with writing short stories?
I'm finishing a novel right now. I sold the book in 2012 with the first one hundred pages finished. I finished the novel in 2014 and sent it to my editor. In January, we talked about it, and we'll be revising and editing this spring and summer, and into next year. Hopefully, it will be published in 2017. It will be published by Simon & Schuster. In the meantime, I am also always writing short stories and essays. I've been writing a lot of essays, so maybe those will turn into an essay collection.
Is there anything else you would like to say to writers?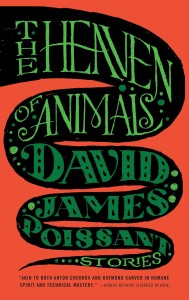 One piece of advice to people who want to write is to try to write every day, but the one thing that is often overlooked about writing is reading. Read every day. Read all the time. Read as much as you can. Read outside your comfort zone. Read fiction. Read non-fiction. Read old stuff. Read new stuff. Read outside your genre. I read a lot of poems.
If you want people to support you, you have to be reading too.
The Heaven of Animals came out in paperback this past March, and is continuing to gain recognition and awards. Poissant's novel is forthcoming from Simon & Schuster probably in 2017.