Floral Photography Presentation
Floral Photographs
Custom sizes available on request.
As a photographer, there must be something that speaks to me, which draws me into the frame. For this reason, my photography can be large in scope from taking photos of industrial things to taking photos of nature, and people.
These giclée prints are from my flower collection. My flower images tend to look more like paintings than photographs, so most people, when looking at my photography, assume they are paintings. I purposely blur the boundaries between photography and painting, and photography and pastels.
My inspiration for my flower collection began when I was young, before the age of five. I was fascinated with Tiger Lilies. There was symmetry to them, but also an archaic pattern to them due to the dots on their petals. I tried to comprehend in some way how something so beautiful could be two things at once. I went around the yard, looking at other flowers, noticing the stamens, the pistils, the contours and shapes of the petals, and the colors of the flowers. I was mesmerized. That has always stayed with me.
In high school, I tried to capture what I saw when I was young, but wasn't successful. Now, much older, I use my macro lens to capture what I saw when I was a child. I'm happy to share with you what I saw so young.
These photographs can be purchased via Saatchiart.
For larger or smaller prints, or for commission pieces, please contact the artist via her email address: otis.christine@gmail.com
---
Handcrafted Glass Ornaments
These one-of-a-kind ornaments take weeks, months, or a year to create. They are painted on the inside of the glass bulb, and made through a layering process, dependent on colors, drying times, sizes, and shapes of the ornament.
No two ornaments are the same. Each one is enhanced by Offray ribbon, and is signed and numbered by the artist. The ornament is for indoor use only, and can be hung throughout the year.
Christine Otis' inspiration comes from nature, like river deposits, the changing colors of the seasons, like Fall leaves and Spring flowers, ice floes, ice cracks, frost, glistening snow, and other natural occurring elements.
I hope this unique piece brings as much joy to you as it did for me in creating it!
For custom orders for events, please contact the artist via her email address: otis.christine@gmail.com
---
Paintings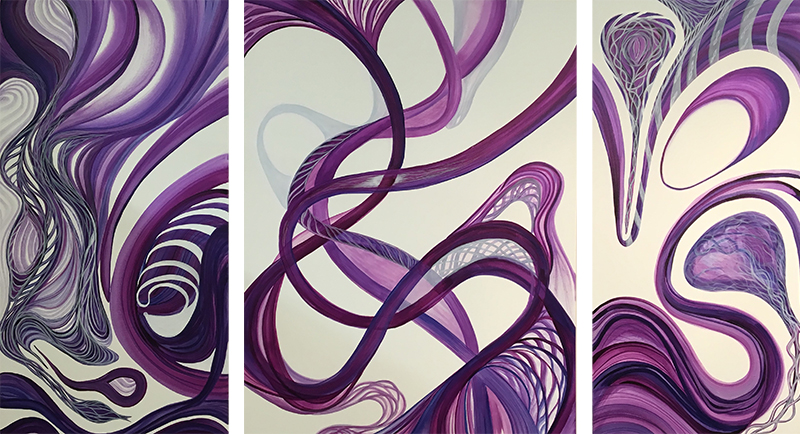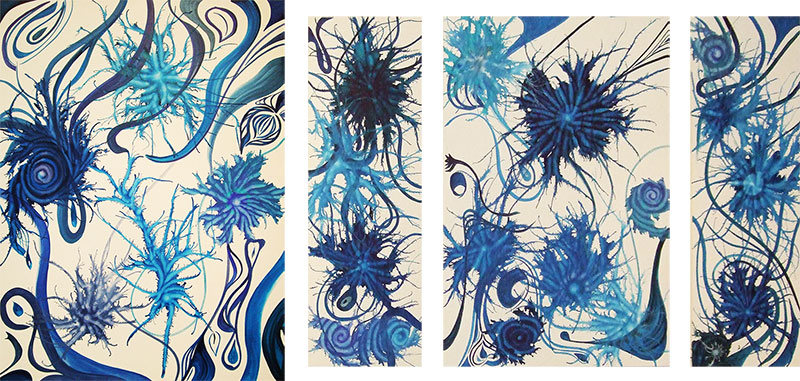 My paintings range in style, and reflect my inspiration from nature.
I like to paint with acrylic, or acrylic ink on canvas, or glass. With glass, my paintings can be double painted (painted on both sides), or on one side of the glass pane either as back paint or painting on the front of the glass. I like to paint on old windows, which have been removed from old buildings. It gives the image a certain kind of feeling that is hard to duplicate. For my canvas paintings, the latest series, is done through a layering process that combines both geometry, and organized chaos like an asteroid or hurricane. These pieces also reflect my love of flowers.
For commissioned work, or larger or smaller pieces, please contact the artist via her email address: otis.christine@gmail.com
---
Floral Greeting Cards
---
All Images © Christine Otis