On April 23rd Naples Daily News published an article written by Chris Silk about my exhibit. Silk wrote, "Otis photographs extreme close-ups of the inside of flowers at nighttime using a macro lens and a flash, then enlarges and prints the photos onto canvas."
Because of the interest the exhibit has generated, South Regional Library requested an extension of my exhibit until May 15th.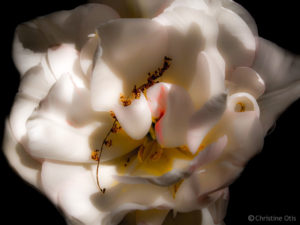 This is the first time I'm exhibiting my photographs, and I'm pleased by the responses I have received, and for the request to extend my exhibit. It's a wonderful feeling to have my work accepted by the public, and to feel their appreciation.
As an artist, this is how we feed ourselves, and I don't mean that in the monetary sense. The positive response is how I feed myself emotionally, which is so often true of artists.
It feels good to know people enjoy my work. It brings me happiness, fulfillment and warmth to my heart, and I'm happy to share that with others. If you haven't already, I encourage you to see the exhibit at South Regional Library on 8065 Lely Cultural Boulevard in Naples, Florida.