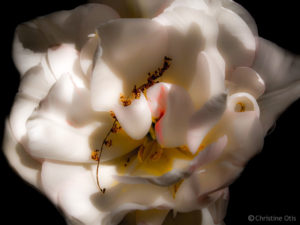 Christine Otis' flower photographs will be exhibited at the South Regional Library in Naples, Florida.
This collection represents the beautiful colors that arrive with spring: the brilliant red and soft pink tulips, as well as the vibrant purple of crocuses, along with the deep blue and rich green of a hydrangea are highlighted in some of the images that will be displayed from April 1st to April 30th.
Her photographic stories provide a narrative account of the senses: the touch of a soft petal, the sweet smell of the blossom, the sound and feel of spring rain, all of it evoking the appreciation of spring.
Blurring the boundary between photography and painting, and the imagery of pastels, Christine draws her audience in, and leaves them mesmerized by images that come alive on the canvas.
Visit 8065 Lely Cultural Parkway in Naples, Florida this April to experience her flowers in bloom.